2023 Spring Flag Football Registration now OPEN!
---
---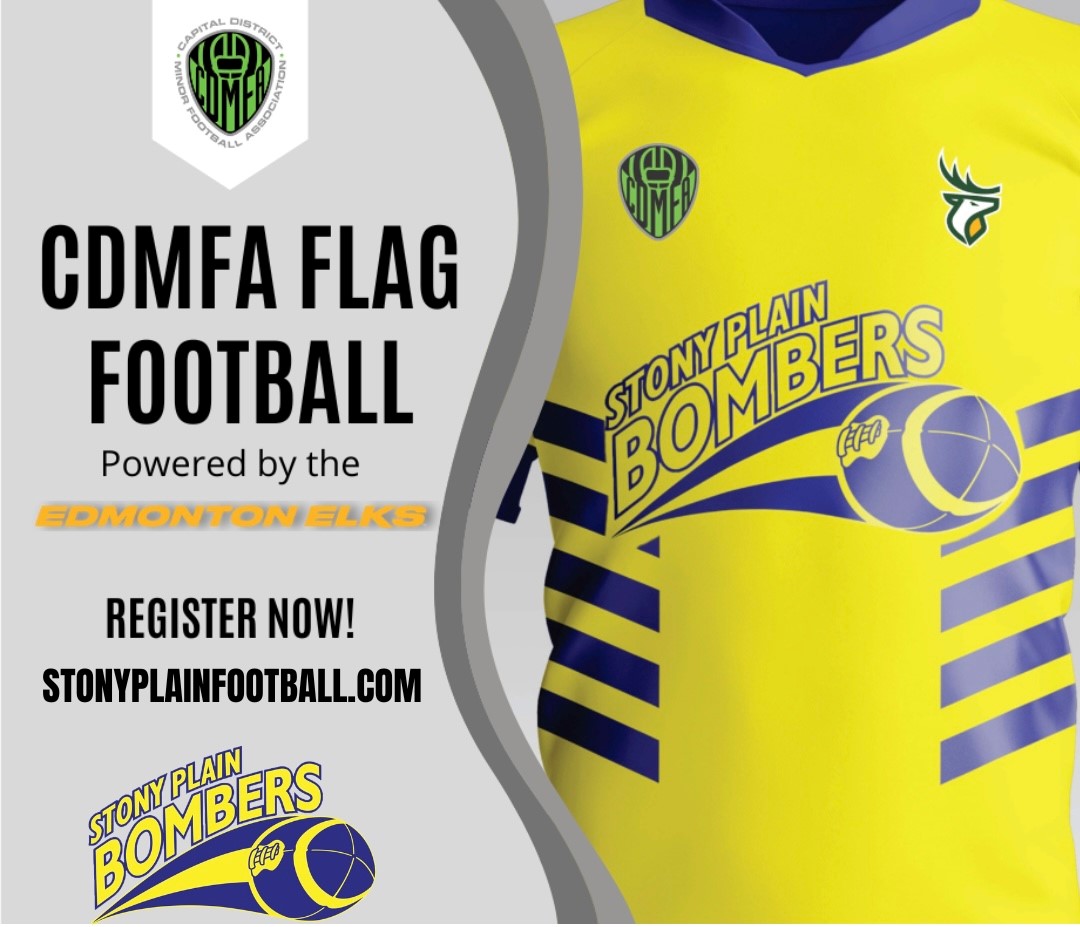 ---
FINAL DAY TO REGISTER FOR SPRING FLAG FOOTBALL
Spring Flag Football
The Stony Plain Bombers are excited to provide the Spring Flag Football season. In this season the fundamentals of throwing, catching, positions, and learning plays will be developed with players. What our club loves about football is that there is a position for everyone and is open to all genders. The Stony Plain Bombers supports the development of all skill sets and levels, beginner or experienced.
Eligibility
ATOM (U10 - ages 8-10) FLAG FOOTBALL - athletes born 2015, 2014, 2013
PEEWEE (U12 - age 11-12) FLAG FOOTBALL- athletes born 2012, 2011
BANTAM (U14 - ages 13-14, *15 if attending Grade 9) -FLAG FOOTBALL - athletes born 2010, 2009 (OR 2008 * only if attending Grade 9 in 2023-24 school year)
Any athletes born in 2008 or earlier and in Grade 10, 11 or 12 should register to play Fall Flag with their designated High School. *IF your child's High School does NOT offer a Fall Flag programs, please visit Metro Athletics website @ www.metroathletics.ca to find a neighboring school to play for.
Reside in the Town of Stony Plain or in Parkland County.
Registration Fees:
Total Registration fee: $250
Registration includes the following:
Practice location
Player insurance through Football Alberta
League Fees to CDMFA
Uniform Package
Registration opens February 8, 2023.
Registration ends April 15, 2023.
Any inquiries regarding registration can be made to registrar@stonyplainfootball.com.
Game Play and Season
Atom and Pee-Wee divisions will play 5 v 5 and the Bantam division will play 7 v 7.
Regular Season games begin April 15, 2023 with the season running to the end of May 2023.
Practices will begin indoors until they can be moved to the Stony Plain Bombers home field. Starting on March 4, practices will be on Saturdays. Mondays will be added for the Month of April. Upon moving to the Stony Plain Bombers home field, practices will be on Mondays and Wednesdays with games on the weekend.
Upon commencement of the season, you will receive a welcome message with the additional information you will need to know from the Registrar. Further information will be provided throughout the season from the Non-Contact Director and inquiries can sent to noncontact@stonyplainfootball.com.
Fundraising Commitment:
1 Bingo per player (Spruce Grove Bingo Hall) = $200
If the Bingo commitment is not fulfilled and/or you do not attend or send a replacement for your agreed upon date and time, the fee in the amount of $200 will be added to your RAMP Account. Your account will be locked until the fee is paid. This is in lieu of taking a deposit.
Parents/Guardians can choose to payout their fundraising commitment.
If you have any questions regarding fundraising, please contact the fundraising coordinator at Fundraising@stonyplainfootball.com
Volunteer Support:
A Trainer and Coaches will be needed to support each team. If you are interested in any of these supportive roles, please contact the Director at Large at director@stonyplainfootball.com and the Non-Contact Director at noncontact@stonyplainfootball.com.
Registration Information:
Registration is paid in the form of credit card, E-Transfer, or cash. Registration occurs through the online registration found here Stony Plain Minor Football Association Online Registration
E-Transfer Information:
E-Transfer to spfa.bombers@gmail.com
Please indicate the player's name, league, and division in the comments section
Refunds:
Refunds can be issued up to and including April 7, 2023 and will be for the club fees only. CDMFA and Football Alberta fees will not be refunded if a player has begun practice.
Equipment:
Players will be provided with a jersey and flags through the club
Players will need to provide their own footwear. For indoor practices, runners will be needed. Cleats or outdoor runners can be used for games and when practices move outdoors. Cleats are preferred to support traction on the fields.
Registration forms
Waivers will be completed at the time of online registration
Medical form to be provided to the Non-Contact Director at first practice. Players cannot begin practice until the medical forms are completed and returned to the club.
For questions related to registration, please contact the Stony Plain Bombers registrar at registrar@stonyplainfootball.com