2023 Spring Girls Tackle Registration now OPEN!
---
---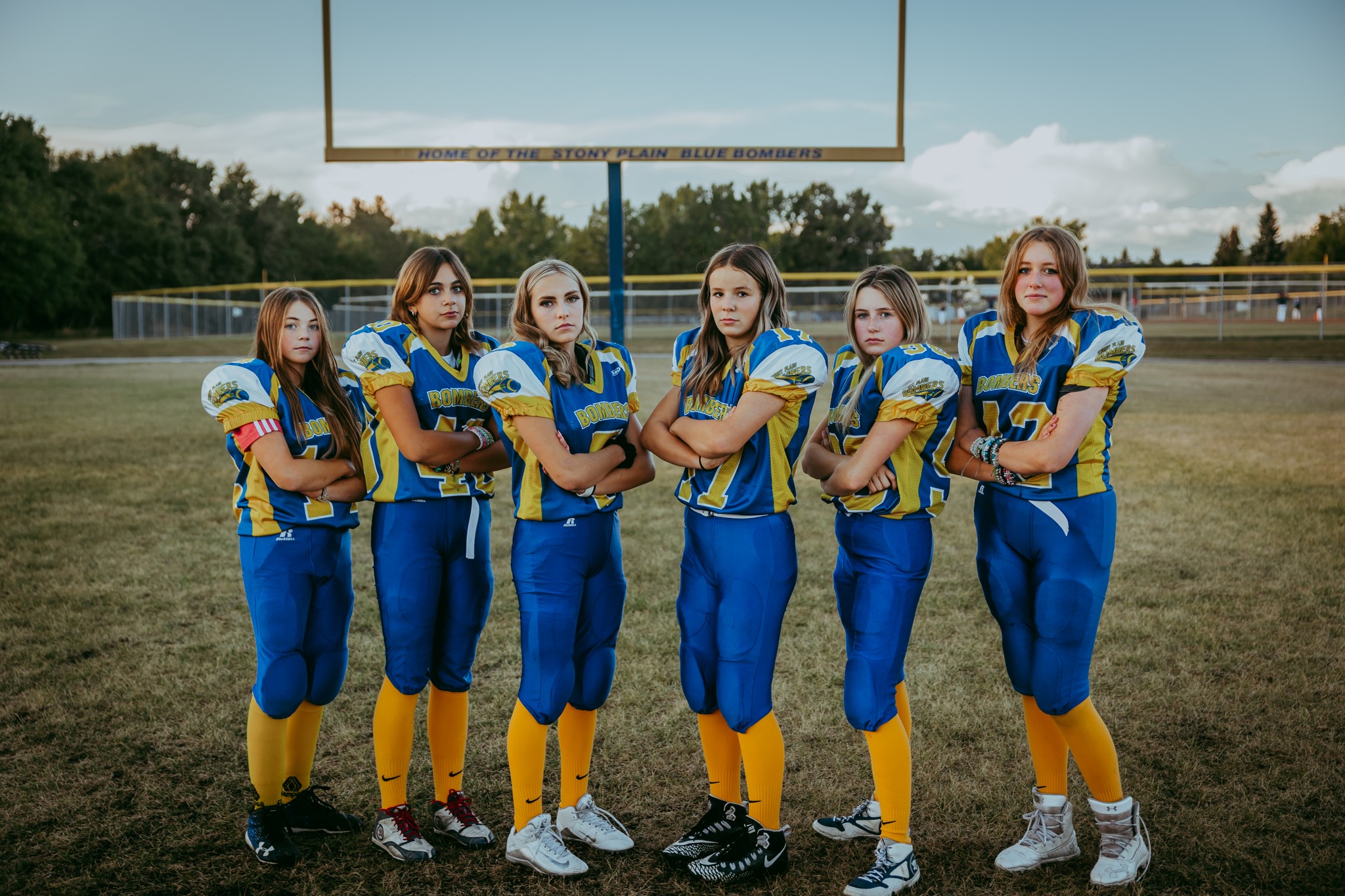 ---
U16 Female Tackle Football
The Stony Plain Bombers are all in on female tackle football to provide female youth the opportunity to continue to grow in the sport. This division provides the opportunity for female youth to compete against each other and develop their skill sets in the sport.
U16 Eligibility
Females who are 13 to 15 years of age (turning 13 in the calendar year and not turning 16 in the calendar year). Born in the years 2008, 2009 and 2010.
Reside in City of Spruce Grove, Town of Stony Plain, Parkland County and other municipalities and counties that do no have a U16 Female Tackle league in their area.
Game Play and Season
The league will play 6-A-Side full field.
There will be 4 Regular Season Games and 2 Play off games. The season will end on May 28, 2023. There is no game play during Easter and May long weekend.
Combined Skills Camp February 12 and 18, 2023 at Foote Field.
Practice begins February 20, 2023 - Location to be determined. Practices will be 2 hours each and 2 times a week - days and times will be provided once a practice location is secured.
Jamboree in Fort McMurray - date to be determined.
Potential game to occur in Calgary, AB.
Registration Fees:
Total Registration fee: $440.00*
*Registration fee includes CDMFA Membership Fees and Football Alberta Membership Fees
Registration includes the following:
Equipment rental and upkeep
Practice location
Player insurance through Football Alberta
League Fees to CDMFA
Team Photo Package
Subsidy for Season End Party
First Aid and Trainer costs
Coaching Development
Registration opens January 12, 2023.
Registration ends March 30, 2023.
Fundraising Commitment:
$100 per player in 50/50 Raffle Ticket Sales
1 Bingo per player (Spruce Grove Bingo Hall)
Parents/Guardians can choose to payout their fundraising commitment. If you have any questions regarding fundraising, please contact the fundraising coordinator at Fundraising@stonyplainfootball.com
Volunteer Commitment:
Support with running sticks and running score clock during games. The volunteer coordinator will be in contact with parents/guardians to make arrangements.
A Trainer, Team Manager and Assistant Coach will be needed to support the team. Those who volunteer in these positions will receive a refund of a portion of their fees once their commitments are completed.
If you have any questions regarding your volunteer commitment, please contact the volunteer coordinator at volunteer@stonyplainfootball.com
Registration Information:
Registration is paid in the form of credit card, E-Transfer, or cash. Registration occurs through the online registration found here Stony Plain Minor Football Association Online Registration
All fees and deposits are to be provided through the method of payment before registration is considered complete.
E-Transfer Information:
E-Transfer to spfa.bombers@gmail.com
Please indicate the player's name, league, and division in the comments section
Refunds:
Refunds can be issued up to and including April 7, 2023 and will be for the club fees only. CDMFA and Football Alberta fees will not be refunded if a player has begun practice.
Equipment:
The following equipment is provided: shoulder pads, knee pads, helmets, practice and game pants, game socks, practice and game jerseys, practice and game belts, bag, and mouthguard.
Players will need to provide the following equipment: girdle (can be purchased from the club for $40), cleats (there are used cleats that can be borrowed from the club).
Equipment will need to be returned cleaned, if not, players will be charged $50.
Equipment must be returned with in 14 days of a player withdrawing from the program or end of season. Should equipment not be returned, $500 will be charged to the player's RAMP account.
Players will not receive equipment until all registration forms, registration fees and deposits have been received.
Registration forms
Waivers will be completed at the time of online registration
Medical form will be completed at the time of equipment fittings. Players cannot begin practice until the medical forms are completed and returned to the club.
For questions related to registration, please contact the Stony Plain Bombers registrar at registrar@stonyplainfootball.com